I'll try to write this blog entry without mentioning the following -
1) Dystopian Urban Decay
2) JG Ballard (This one is easy, I've never read any of his work, but clever people often cite him as one of John Foxx's influences)
3) Underpants! (That's what some silly kids used to sing instead of "Underpass" – but it was a mark of affection of course as it's a darkly cool synth-pop classic)
Was so looking forward to this gig, loved the Midge Ure incarnation of Ultravox when I was at school, they were in their pomp then, but it was when I discovered the three Ultravox albums fronted by John Foxx that I was really blown away. It was like nothing I've ever heard before. Making the most of the emerging technology of synthesisers, but still underpinned by rock / punk with spiky guitars and a undercurrent of melancholy and detachment, they sounded so decadent and poetic to me.
I wanted to stand still, hands by my side, against a wall, looking stark and enigmatic, backlit by neon, in a PVC jacket, just like on the cover of the first Ultravox! album (before the exclamation mark left the band). But I didn't as it would look silly and I'm not elegant and willowy like those boys and no one else I knew liked them… I mean, when I was at school, I remember there being a massive debate between my (male) classmates as to who was the hottest, Chaka Khan or Kim Wilde…purlease! When I suggested Siouxsie Sioux be considered I was told to shut up and vote for one of the official candidates. I abstained.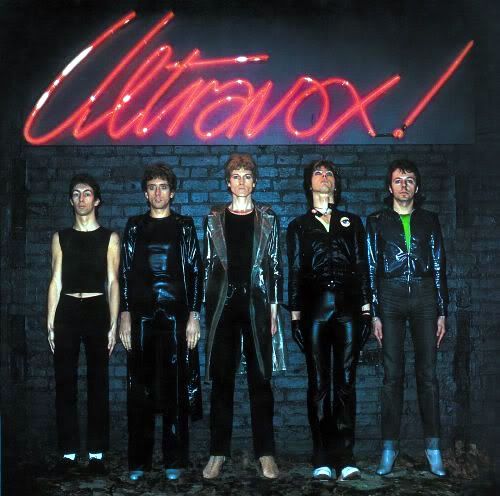 Not sure about PVC trousers lads, a tad revealing perhaps? It doesn't need Gok Wan to suggest they aren't particularly flattering, but everything else is grand. (Apart from blue cowboy boots and a sleeveless vest which shows off your belly button)
And so it was – me and my mate John from work, rolled up to Old Street tube to visit a venue we'd never visited before (XOYO). It was like stepping into the early eighties, it was brill! There was a dude in the audience actually wearing a PVC jacket, now PVC is like heroin, it is a banned substance in some industries, not sure if clothing is one, but there are several united nations resolutions against it. Burning it causes massive poison emissions, so I was hoping no one would set him alight during the gig. He didn't combust. It was cool.
We caught the tail end of one of the support acts, Xeno and Oaklander, have to say they were really great! So will be following their progress and perhaps turn up to check them out if they headline a gig in the future.
After they finished, the DJ played some old new romantic tunes, there was a brief interlude whilst the priceless relics (the original analogue synths and drum machine) were reverently assembled on stage, fired up and sound checked.
After what seemed like an age… the band. John Foxx and the Maths!
From left to right, Hannah Peel, John Foxx, the synth genius and shy and retiring Benge (he's behind John -I could see him bouncing around and whacking his kit, but was difficult to get pics of him, he has the reflexes of an olympian squirrel, so managed to avoid my camera effortlessly) and last but not least Serafina Steer.
They opened with Shatterproof, which is the opening track of their 2011 album Interplay, playing these songs live gave them more depth for me, already loved the album. Hearing old synths is really nostalgic, takes me make, those soaring sounds, warm sounding, not clinical in any way. And all this was added to through violin accompaniment by Hannah and bass playing by Serafina. Both Hannah and Serafina are accomplished singer songwriters and musicians in their own right, with big futures ahead, so the Maths are essentially a super group.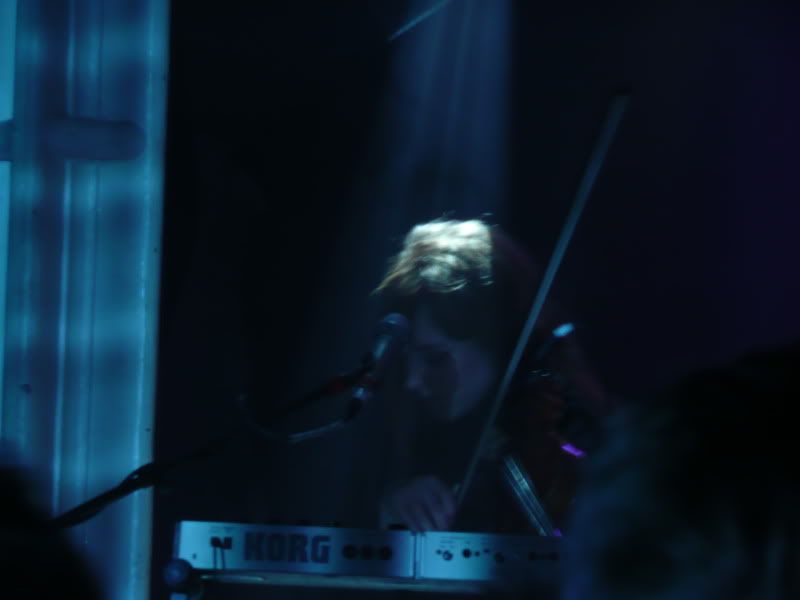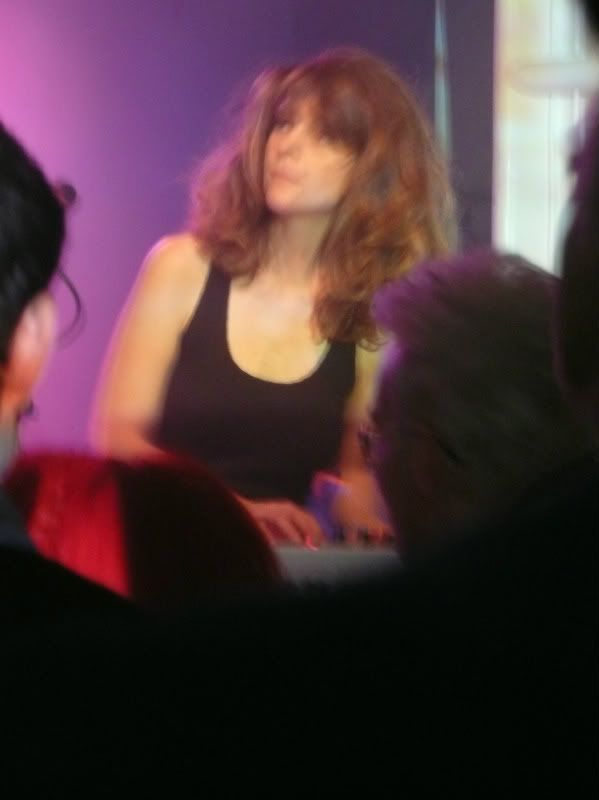 Fantastic stuff. Evergreen was also played early in the set, probably my favourite song on Interplay. And interspersing these new numbers were some songs from John Foxx's early solo material.
John turns his silhouette to gold during Hiroshima Mon Amour, my favourite ever John Foxx/Ultravox tune. What a beautiful song. The lyrics are just haunting. I'm so pleased to have had the privilege to hear this live.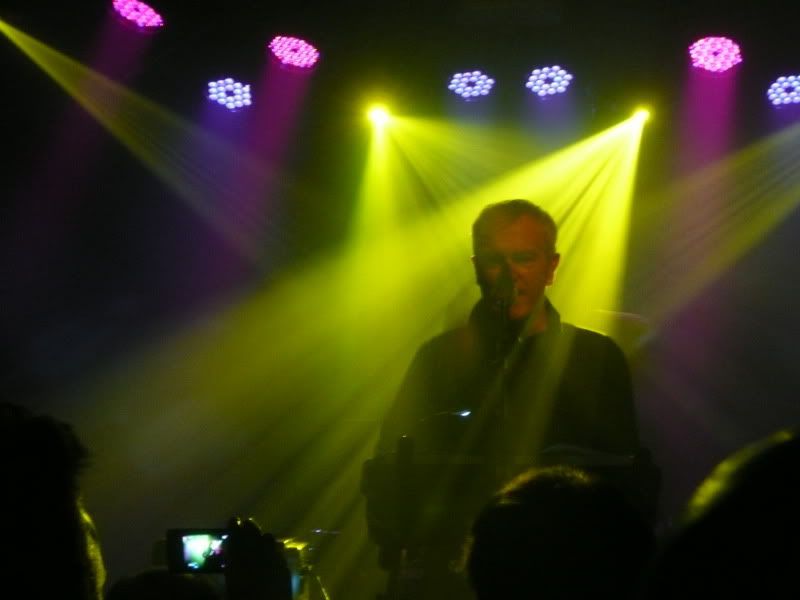 Absolutely loved the gig, the new tracks, the old classics. It was wonderful. And the band look fantastic together and have a real vibe, they all look like they are enjoying themselves and that makes a huge difference for me. Like I said on twitter (and Ms Peel kindly retweeted), I want *all* of their hairstyles, not at the same time of course. As in the future, we will be able to buy hairstyles and keep them on shelves. Like shoes. Or baked bean tins. John, the archetypal Silver Foxx. Benge, his beautifully styled playmobil hair, barely moving as he energetically works his magic in the background, Hannah, all sculpted elegance and Serafina, a vibrant mass, almost prehensile and sentient, I'm sure her hair played three of her seven keyboards.
Here is a moody dark shot, teasingly hinting at the hair magnificence going on in the room.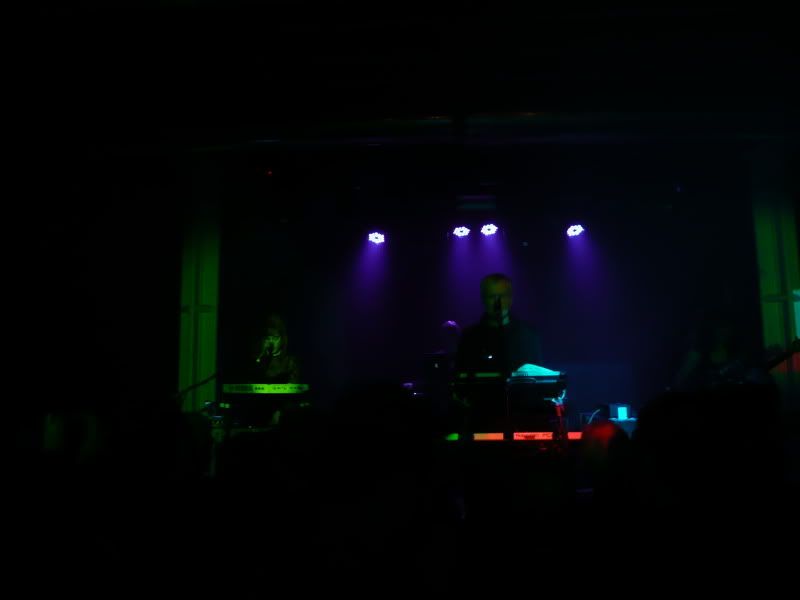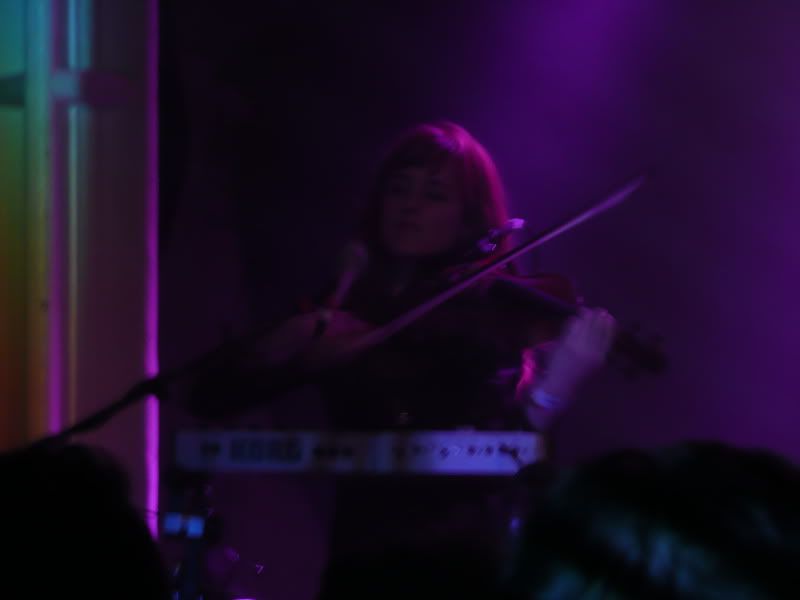 Burning Car was the most enthusiastically delivered for me, best song of the night, it seems like a band favourite, all four of them were getting right into it and even my left leg twitched rhythmically in what can only be described as a dystopian dance, evoking urban decay… *failed task no 1.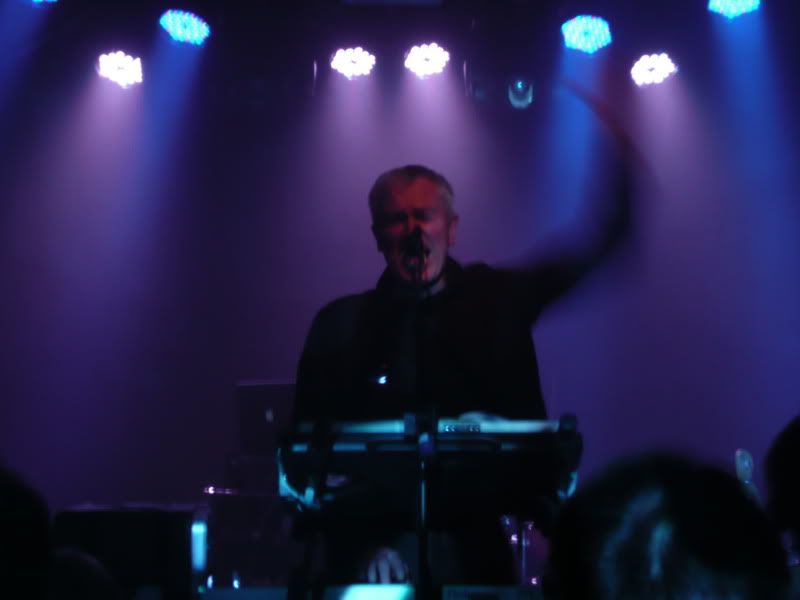 John invoking the synth spirits.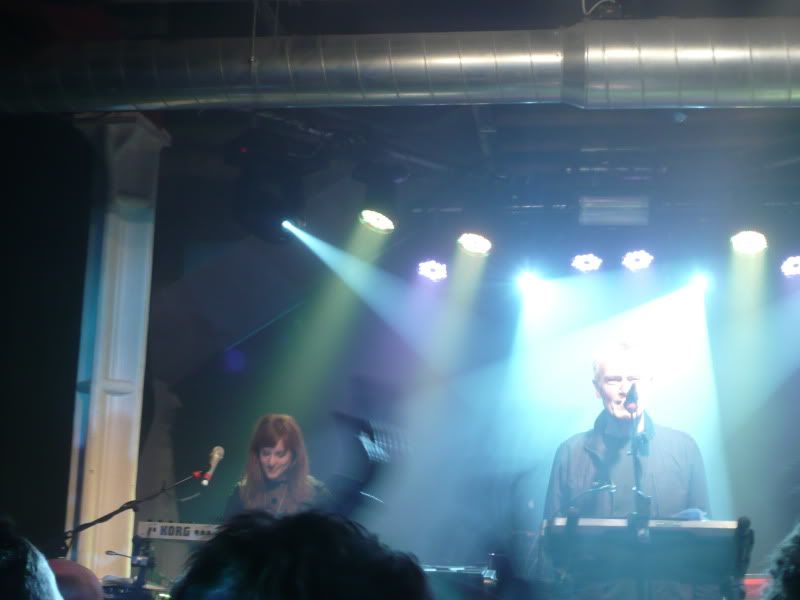 Encore! Encore! Moooore!
And final pic, after the last track of the night, Underpass (which was brilliantly and tightly blasted out) : if you look up "Jump for Joy" in the dictionary, there is no description, just this picture. :)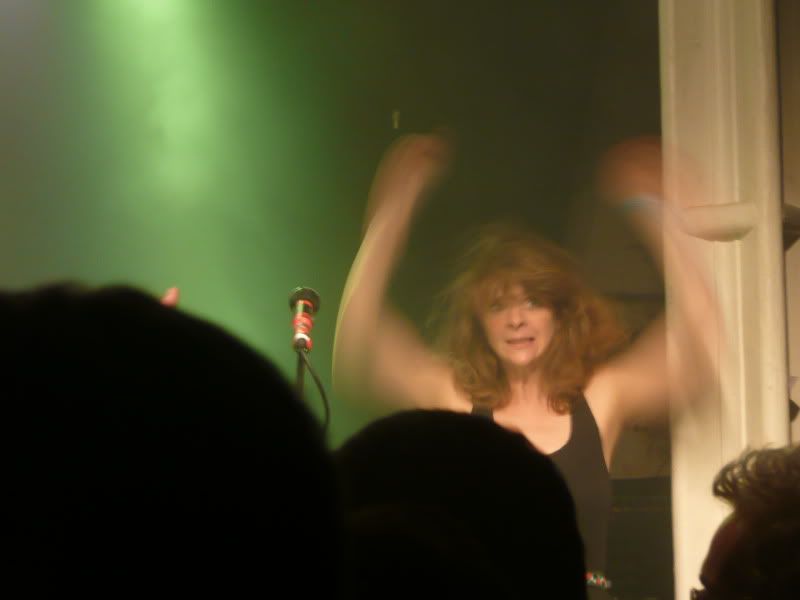 It was sad to hear John cut his head on the night of the gig and it meant some cancelled gigs, glad he's ok that's the main thing. I loved the pic Hannah Peel posted on twitter, the sinister use of CSI body tape a great touch.
http://img.ly/9R2H
It led me to think was it really a table that caused the injury? I think not, John just doesn't what to let on he cut his head on his own cheekbones, the man is sharp, a spark of electroflesh… and geared for synchromesh. I am somewhat younger than Mr Foxx, but already my jowls sag pitifully in comparison to the cut crystal that is the face of John Foxx.
What a top gig. Thank you John Foxx & the Maths. And get well soon John!
And so, back to St Pancras and a train home on the shitsville stopper, took ages, the train full of drunks, or youths trying their dreadful one liners (one worders in one case "spiceeeeyyy!" whilst gyrating hips in the general direction of some girls). But I blocked it all out, till I got home.
Love living in the country, as I opened my front door, I could hear the distant hoot of a tawny owl, faintly rolling over the moors. Four hours sleep, then back to work! Wouldn't have missed it though, great fun. Tomorrow, PJ Harvey at the Royal Albert Hall.