Hello 2013.
When the Tate announced they were going to be hosting a series of gigs by Kraftwerk I was of course excited, they were to play a classic album over 8 nights, covering a large chunk of their back catalogue from Autobahn (1974) to Tour De France (2003). Much sampled, Kraftwerk are engineers, pioneers, but the most part they are musical geniuses, I had to try and get tickets. I've been a big fan for years, they're a band who deliver songs about computers, radioactivity, roads, trains, vitamins and robots with a deadpan credibility, combining soaring emotive melodies with the starkness of industrial synths. They were technological pioneers with their home made instruments / drum kits. In many fields, it's when science combines with arts that the most intriguing work is generated and Kraftwerk uniquely sit awkwardly and majestically apart in the musical space. Their fans range from socially awkward computer geeks, punks, hippies to dance/techno heads.
Little did I, or anyone else know, that the Tate, in homage to the computer technology of the 70s, would be using a ticketing system which had the total capacity of 16k.
Within seconds of the tickets going on the market, their website fell to pieces, leaving the many thousands of fans no alternative but to telephone, how retro.
After possibly three-hundred (perhaps more) redials, using two phones, over three hours, I finally got through, to speak to a sore throat suffering croaky young man, brow beaten by the sheer battering of phone calls he and his colleagues had suffered that morning. He timidly offered "sorry for the long wait", knowing that for some people this was a invitation to savage him. I was fairly sanguine though, I'd got through, this young man was my ticket to tickets, there was no way I was going to upset him!
I managed to get four tickets for the opening night, Autobahn. It was a cold evening on the South Bank, the dim blue glow on millennium bridge drawing us towards the imposing beast that was the Tate Modern. The gig was to be held in the huge space of the turbine hall. It seemed apt that the former power station be host to the band whose name means "power plant" in German.
As far as gigs go, this was one of the most polite I'd ever been to, we were issued with 3D glasses and cushions going in. Me, Neil, John and John then strode down to the front and got a good pew. Once the beeps and whizzes of "Robots" started to jangle behind the curtain… people inevitably stood up, so with cushions discarded, the curtain dropped and we were given a memorable show. Somehow, these elderly German gentlemen managed to pull off the outfits, one piece cat suits with no dubious bulges, hernias or Camel-toes on show (I've looked it up, it's kamelzeh in German – heh!).
Photo from the opening track "Robots".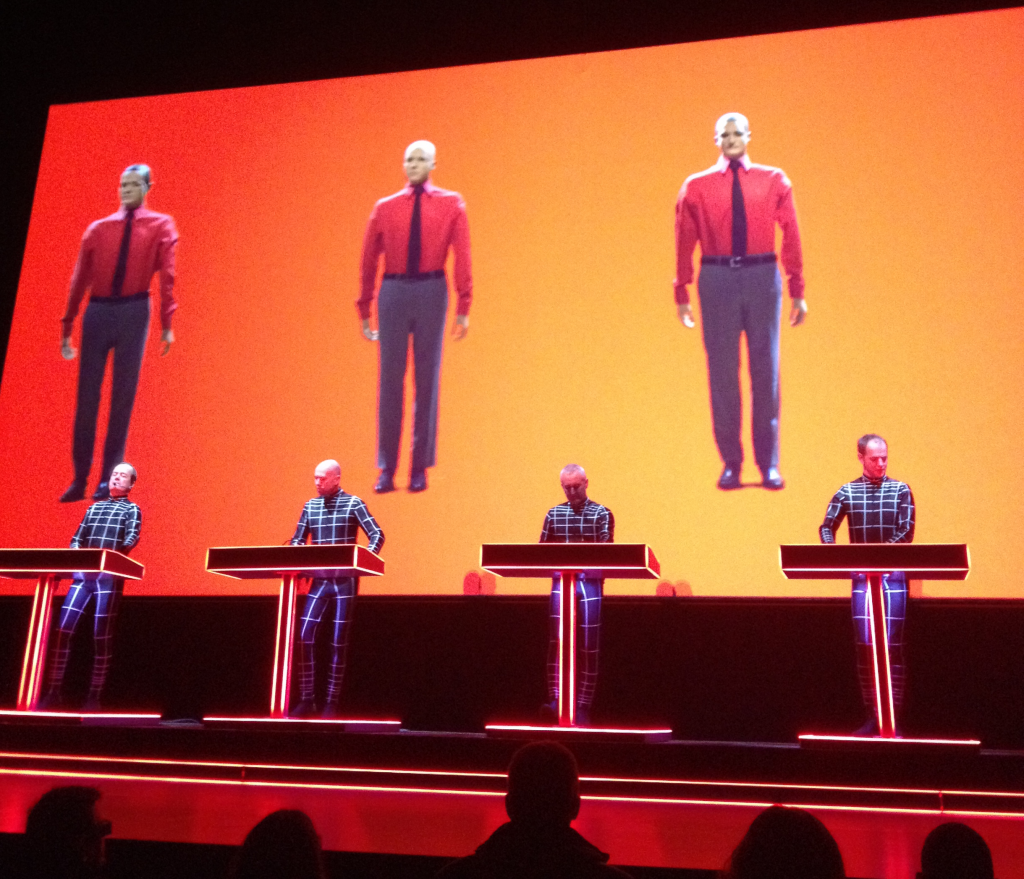 With the sublime Robots out of the way, they then played through the Autobahn album. The title track is a 22 minute beast, although it seemed to have been cut down to around 15 minutes. It was a brilliantly fun advert for classic German motoring of the 60s/70s, with the 3D imagery thrusting VW Beetles and old Mercedes cars towards us rubbing our fallen Britisher faces in the wreckage of our once proud manufacturing industry. (I'm sure this wasn't their intention)
The album itself is perhaps one when Kraftwerk were finding their modern sound, really exploiting the new technology. It isn't their best in my opinion, but it's certainly groundbreaking. And being less than 40 minutes long, they were soon through the more ambient "B side". It was a lovely starter.
Then they rolled through their back catalogue. The crackle of Gieger Counter rolled into Radioactivity (it's in the air for you and me) and we were off on a whistle stop tour of their albums!
Some songs were faithful to the original, some were given a modern, dancy twist. Kraftwerk have been playing a number of art galleries around the world and it's quite apt they seemed to give a slot to each album covered chronologically. It was like walking through an exhibition, as much a historical retrospective as a gig.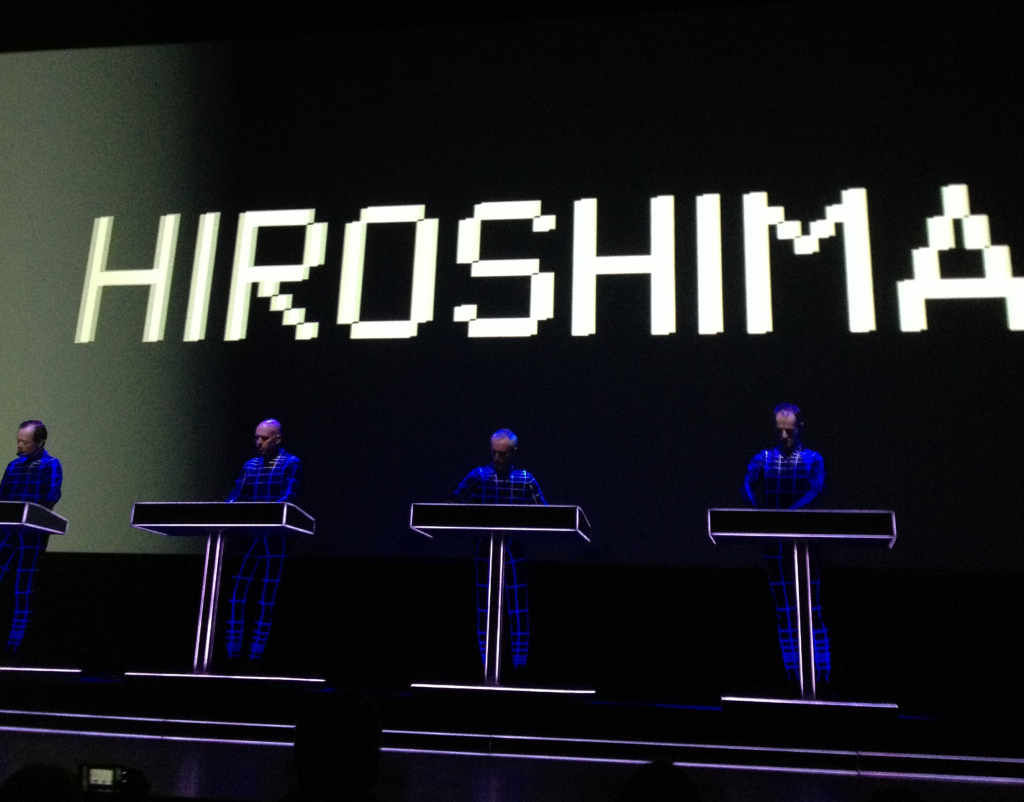 (another pic from Radioactivity)
The turbine hall, that immense space was perfect for their sound, there was no distortion, the synth bass really punched you in the chest and of course, they were musically perfect. Trans Europe Express was much better live than the studio version, you could feel the train powering down the tracks (and see it hurtling towards you on the 3D backdrop).
Here's Ralf Hutter (the only original member left) during it. Couldn't fit the train in, sorry. I love the fact Afrika Bambaataa sampled this for his pioneering hip-hop track Planet Rock.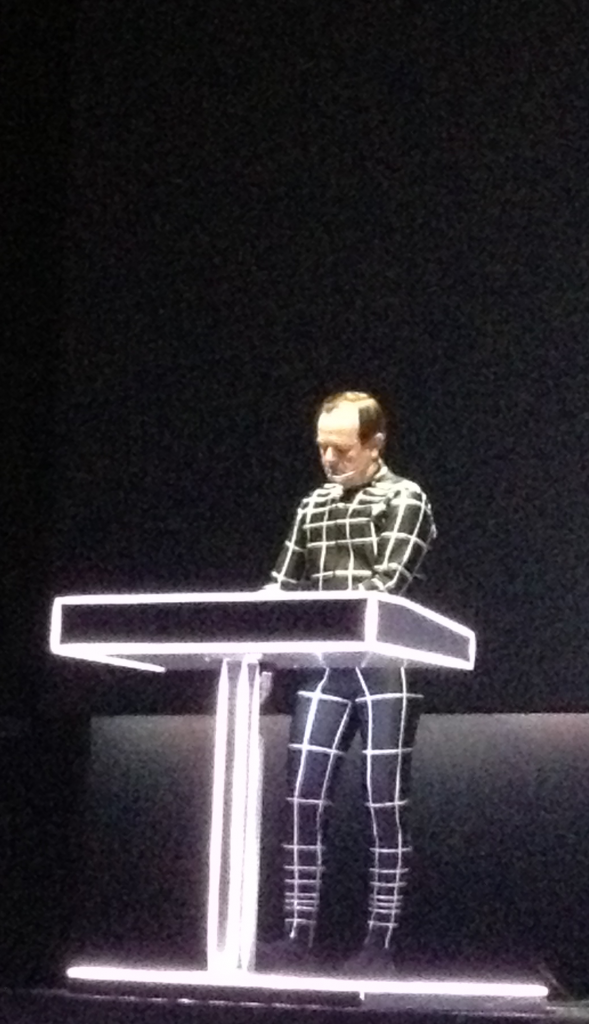 Tracks from Man Machine (every song played other than Metropolis) and Computer World were well represented (they didn't play Pocket Calculator to my disappointment though) and when Numbers came on it felt like an insane techno German sesame street learn to count song. Superbly mental. The visuals were overwhelming, numbers throwing themselves at you, in multiple languages, a total savant meltdown.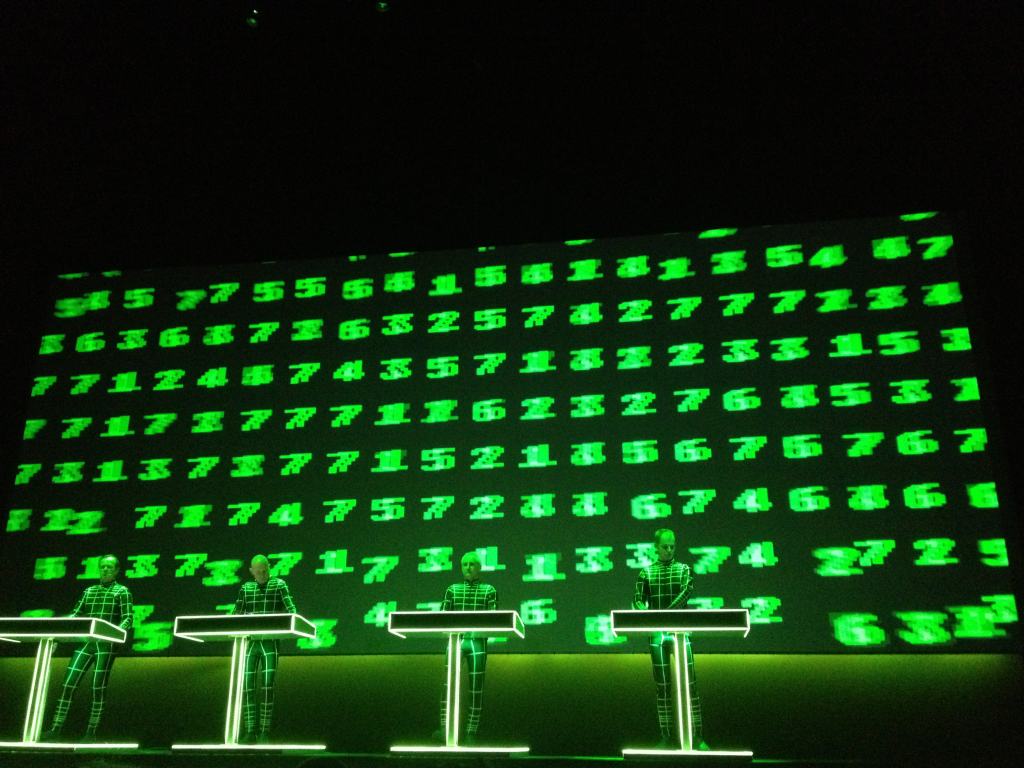 Vitamin is a fun pop-dance song too, about a ridiculous subject. The 3D tablets cascaded towards us, I resisted the urge to snatch at them. I'd have only got a handful of virtual laxatives probably.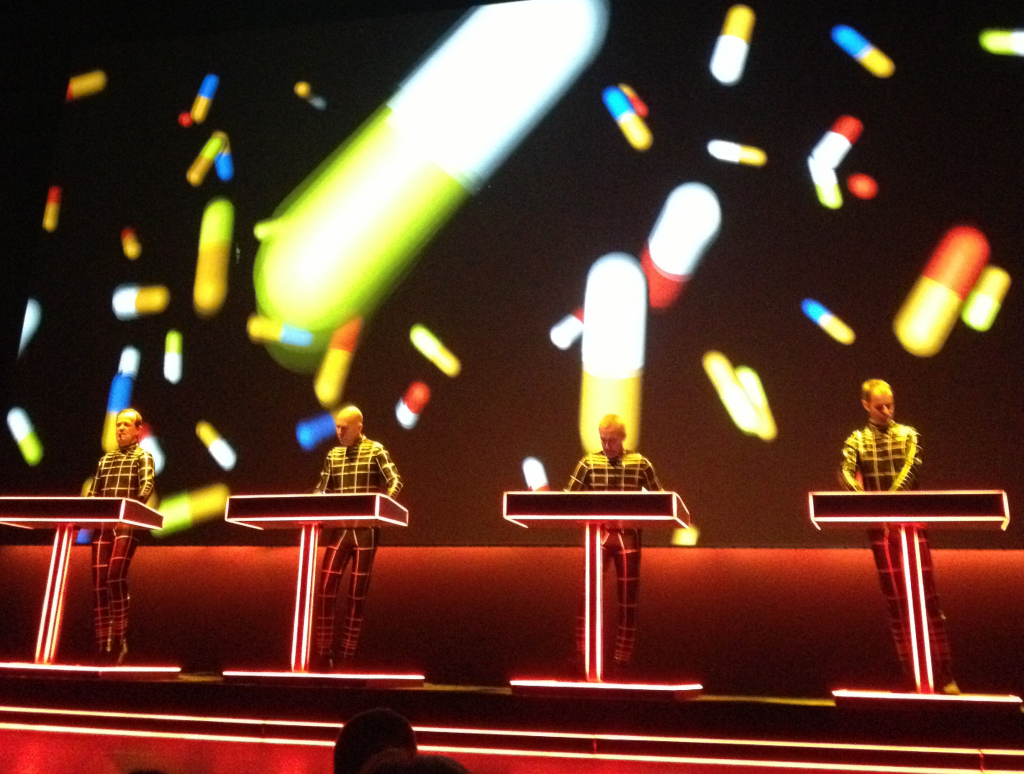 It was a real privilege to be there, I was lucky to get tickets. One of the best gigs I've been to. We were all a bit lost for words afterwards. And I leave you with Neon Lights, one of the most beautiful songs ever written, quite apt for the South Bank and London.
Cheers Kraftwerk!