This year has been great for arts and culture, those of us fortunate enough to be in striking distance of London have been spoilt for choice. So far I've seen Freud, Hockney, Picasso, Munch, Da Vinci and am very much looking forward to the upcoming Pre-Raphaelites at Tate Britain. One of the highlights for me is the British Library's Writing Britain, Wastelands to Wonderlands exhibition.
The curators have selected some absolute gems of the British Library collection from the genius of British and Irish writing. it celebrates the land through the beauty of the words written in honour (or more rarely, in spite) of it.
It's inspiring and almost overwhelming, the complete list of works is available here. The names are a roll call, possibly our greatest export to the world.
The oldest works capture the whispered legends of antiquity, the newest whether they be gritty urban works or escapist fantasy still touch on themes which are eternal, tragedy, love, conflict, justice, poverty, redemption, melancholy.
It's a powerful testament to this land. Seeing a writer's handwriting, the background to their work, their inspirations, hearing recordings of their readings, collaborations (such as Ted Hughes and Fay Godwin's beautiful work on Elmet), correspondence, all contribute to this tribute to our Islands.
Writers and writing instigate change. Instil outrage. Inspire. Make you cry, feel, love. Propagate a sense of justice and fairness. Whether the writing is literal or delivered through fantasy and metaphor, the power of words is a gift.
I rarely go all prescriptive about things, about what people should and shouldn't like, but I'm passionate about the British Library and this exhibition. We should be proud of our writers.
You don't necessarily need to wave a flag around to love your country, you can do it in your own quiet way, through reading a book, or going for a walk and being inspired by landscape. This exhibition combines both.
I was inspired to write a poem, I humbly quote the sub-title of the exhibition and use it as the title of my poem. Wastelands to Wonderlands… I mean… It's very evocative after all.
Wastelands to Wonderlands
These islands' words,
lit beacons across the coast,
the voices of the long dead
float away,
bright ash weightless
over seas, fjords, mountains, deserts,
carry the spilt blood in embers,
of empire, lost,
a guilt rising, whispered,
These islands' words,
a tightly wound script
of knitted mail,
a shield wall of scale,
barrier to wave and wind,
green knights and farmers,
bowler hat wearing gents,
suffragettes,
tales bleed down pages,
These islands' words,
in meadows, the cobbled alleys,
the once proud woods,
ghost trees stand in factories,
and below ground in dark depths,
where the dragon stirs,
a heavy eyelid creaks,
men strike with picks,
sentences tumble from the coalface,
These islands' words,
dried ink untarnished
in dust covered tomes
fall into minds,
never eroding,
coveted treasures
tragic and beautiful,
love,
wastelands and wonderlands.
©Mel Melis, July 2012.
A couple of pics of exhibits follow (credited to the British Library website)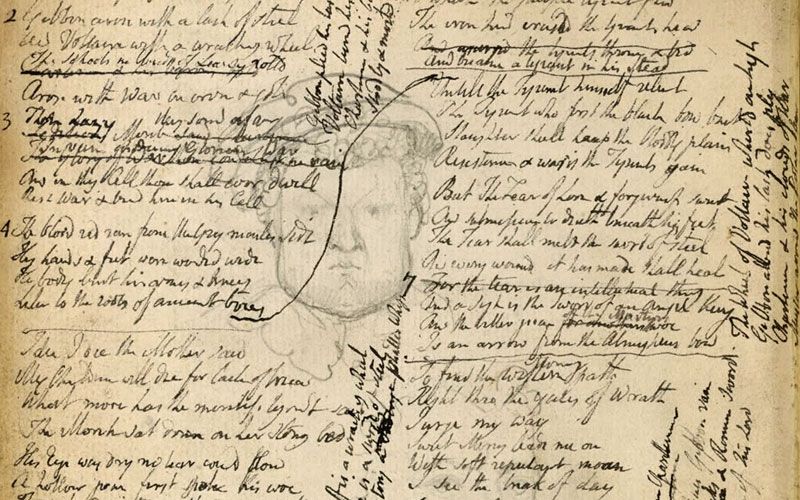 William Blake's notebook, from when he used to wander round Lambeth.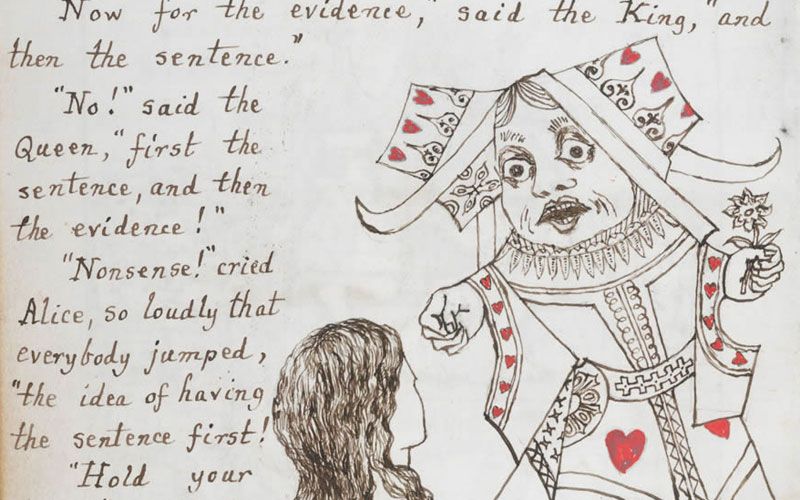 I love Lewis Carroll's handwriting. The Queen of Hearts is pretty terrifying though!
A little map you get when you pays your monies! Tolkien's depiction of Hobbiton brings a smile. Loved that. But it's all good. I recommend it!