Pinkshinyultrablast, 11th May 2015
One of my most played albums of this year has been Everything Else Matters by St. Petersburg shoegaze outfit Pinkshinyultrablast. So it was great to be able to catch them with regular gig buddy the Bossman on their first UK tour when they played at Hoxton Bar and Kitchen on the 11th May. And yes, I am a little embarrassed that they've since embarked on a second UK tour and it's taken me months to write this! So I'm treating this as an album review too (which is also late!)
They play hook laden shoegaze, punctuated by blasts of razor sharp guitars and overlaid noise, the album itself is a beautiful thing. The opening song "Wish We Here" starts delicately, with its vintage analogue synth sound pulsing over you, singer Lyubov's fragile otherworldly vocals, then a steady building, a marimba beat, synth bass, another layer of synths… then it hammers you, (lots of) guitars, bass, crashing drum runs, more vocals. It's a fantastic album, great to run to on a darkening moor, it feels like a winter album.
I imagine they write in a shack, holed up in a snowy pine forest somewhere in the Baltic and their music permeates through the ice encasing their studio, firing out refracted light and colour into the night sky. They are an aurora borealis band, people of the sky consigned to live on the ground. What am I talking about? I have no idea, so buy the album. You'll get it.
Photos © Mel Melis
You can never have too many effects gadgets (below)
Other standout tracks include Marigold and the fun Holy Forest, with it's quirky beat and spiky riffs. The video is the band's homage to martial arts.
Pinkshinyultrablast–Holy Forest
Played live the songs are more savage, noisy, the kind of wonderful ear battering you expect from an intimate venue like the Hoxton Bar and Kitchen. The last time I was there was to see Roman Remains, the Duke Spirit side project, which I reviewed here.
The Go! Team + Glockabelle, June 17th 2015, The Village Underground
As well as the late review of Pinkshinyultrablast, I also wanted to review the return of the ever brilliant and fun Go! Team. I think I've seen them six times, maybe seven, probably four of those times with my friend John from work, who I also went to this gig with. They are almost certainly the band I've seen the most times out of all the gigs I go to. Why? Because they are the most fun live act you can ever go and watch, that's why. See my review+photos from a gig they played at Icelandairwaves in 2006, here and here.
But before I wax lyrical about the Go! Team, special mention must go to their support act Glockabelle. Ten things I know about Glockabelle.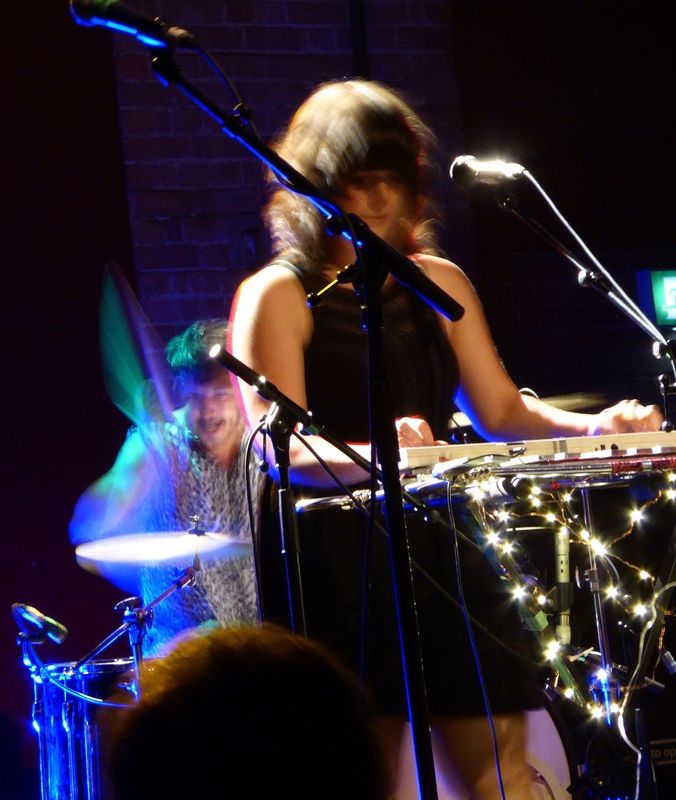 1. She's French. She sings in French.
2. She plays retro Casio-tone organs. Several of them. At the same time. Really fast. Impressively fast.
3. She also wears thimbles and plays metal glockenspiels. I mean made of metal. Not like heavy metal, although I'm sure heavy metal glocks could easily be part of her repertories. (I initially thought they were xylophones, but lucky I googled it and learnt xylophones are wooden and glockenspiels are metal… phew no-one will realise I'm stupid… seeing as "glock" is in her performer name!)
4. Her drummer was dressed as a cat. He hid under a blanket during the gig and the audience were encouraged to entice him out.
5. She has covered Bach, The Ramones and the Tetris theme
6. Her songs are eccentrically brilliant. Regardé
7. One of them is about a washing machine and contains the lyrics "splish splash, splish splash… aaaahhhhh!".
8. She sells her EP on a stylish personalised USB. I bought one. It's the future.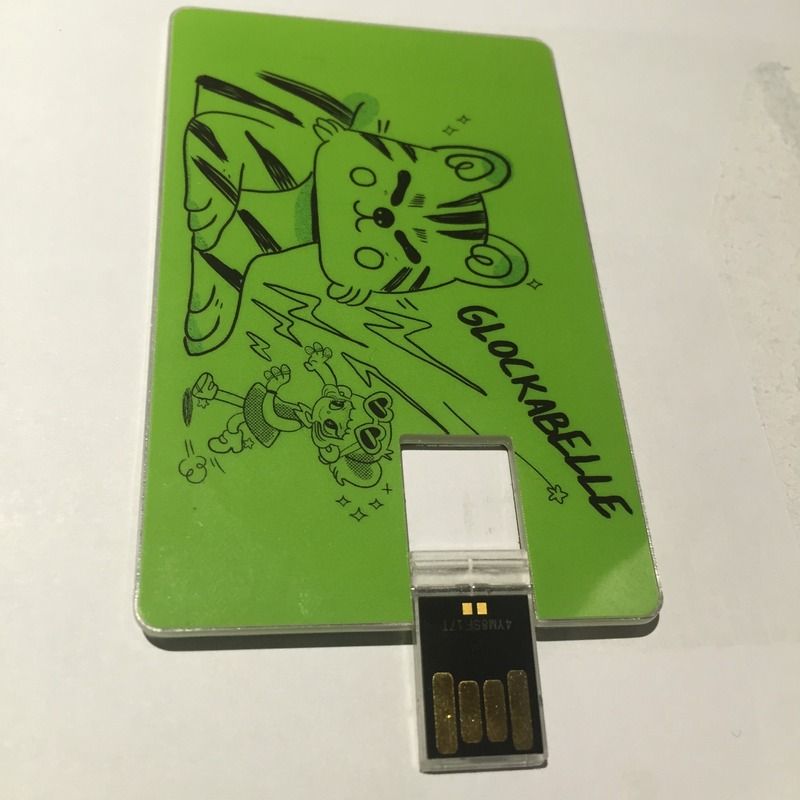 9. She was very gracious and had a photo with me. Even though it looked like I was wearing hideous novelty braces (that's my bag shoulder strap, honest!)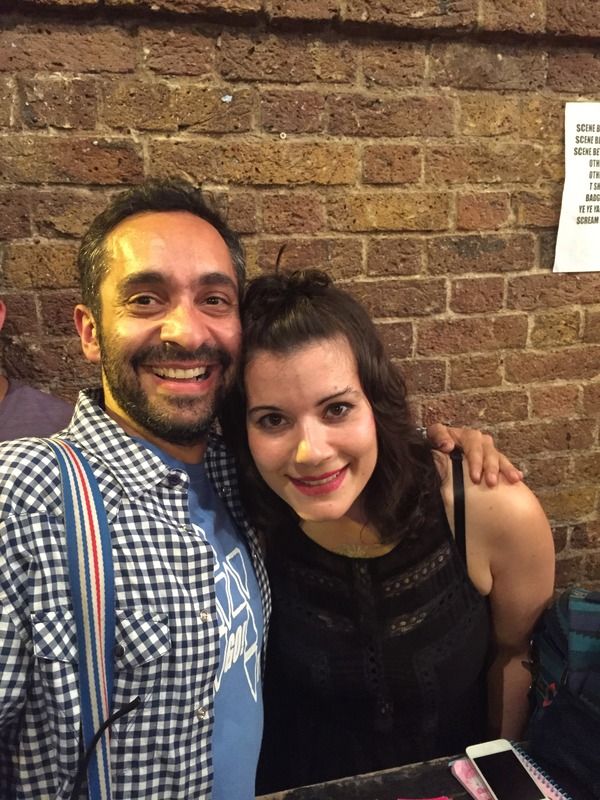 10. She sings one of the songs on the fab new Go! Team album (Catch me on the rebound)
Which brings us nicely to the Go! Team.
Another album I've been playing again and again this year is The Scene Between by the Go! Team. It's a near perfect bundle of joygaze energy (if no one has invented the term Joygaze, I'm claiming it ™) – a similar template to their previous offerings, danceable, endearing, noisy, jangly, guitary, heart warming songs and beats which make you grin from ear to ear and even… dance (not me though, ok, a bit). Songwriter Ian Parton has refreshed the line up, he's kind of like Professor X of the X-Men, except he plays about seventeen instruments instead of reading minds and has a red and white striped "where's Wally" tee shirt instead of a wheelchair. There are some new superheroes in his band, only the effervescent and irreplaceable Ninja has been retained. Added to Ninja and Ian there's Cool Geography Teacher, Disney Princess, Joan Jett with immaculate hair (circa 1977) and Road Warrior Drummer Lady (or Sam, Angela, Cheryl and Simone respectively). The new album is better, more polished, more addictive than previous offerings. And they clearly love playing live! A real treat is The Art of Getting By, an uplifting anthem reminiscent of a 1970s fizzy drink commercial telling us to get on, love each other and do huggy stuff whilst drinking a refreshing beverage. All the songs and little skits are great.
Smattered through the live set were the live favourites as well as the new songs. Audience participation is optional, but I've never seen people not engage. I imagine if audience members didn't, then I'm sure Ninja would reveal a taser with lovely pink flowers drawn on it and zap some electrified love into their twitching suddenly dancing carcasses.
Here is a bunch of clips I took at the gig. Best viewed full screen as I'm useless at filming.
The Go! Team, Village Underground, June 2015
Finally, a couple of photos. Can't wait to see them live again.