I haven't blogged in a while, I've been flat out with work. I need to start writing again. A simple way to kick off that energy is to share some music and some pictures of gigs I've been to this year, to fire some synapses, give me some ideas, to stir some passions. Then maybe, who knows, I might blog again. Soon!
Cate Le Bon, Friday 7th February. Islington Assembly Rooms
My first gig of the year was back in February, Cate Le Bon at the Islington Assembly Rooms. It's a venue I've never been to before, but I instantly liked it, nice high stage so a shortarse like me can get a decent view and a reasonably quick serving bar. It's also part of the council buildings Arsenal start or end up in as part of their bus tour of Islington when they've won a trophy.
So who is Cate Le Bon? She's released three albums to date, the first impression is one of Nico. But she's also inspired by the likes of Syd Barrett and in some songs that really comes through with the quirky interludes or the psychedelic aural assaults, but it would be unfair to pigeon hole her. She's a fantastic singer/songwriter. Some say her lyrics are dark, but I don't see that, they are ambiguous, ambivalent, you take from them what you want. She's fantastic live, would definately see her again. John from work was also impressed, as we were with the pre-gig Upper Street meze.. just don't tell anyone we did something that louche.
Two of my pics from her gig. All photos © Mel Melis unless credited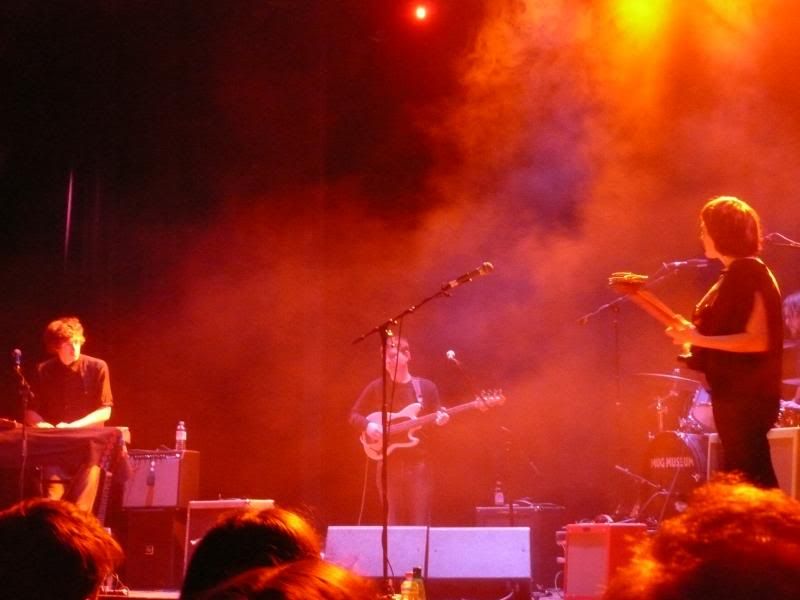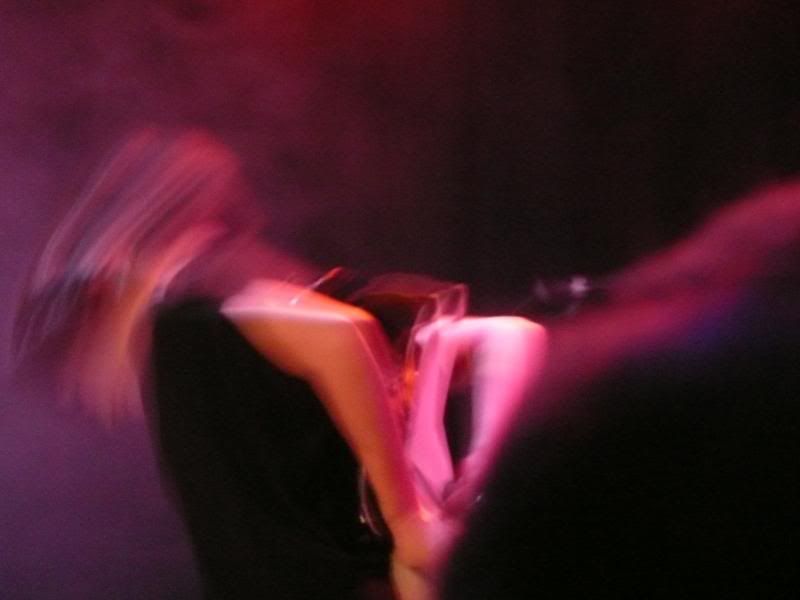 The Stranglers Saturday 8th March, Hammersmith
And so to the Stranglers and their 40th Anniversary Ruby tour. My first ever gig was the Stranglers. Alexandra Palace, Hugh Cornwell's last gig, the last gig of the original line up. I'd seen them a couple of times since, but then wasn't so fussed about following them live although I always loved their music. So I felt inspired to go to this gig, sentimentality and curiosity as Jet Black, the oldest man in punk (probably undisputed at 75 years young) would play drums in a few songs. As prep' I was catching up with their old albums, Black and White (their third album) was the one I homed in on, a lot, a brilliant, dark and claustrophobic post punk classic. JJ Burnel's brutal basslines are especially sinister on this album and the themes of Orwellian post-apocalyptic control and dystopia hammer through the album. They didn't disappoint, they played for a fucking age. It was truly epic and it was an emotional moment when Jet Black played in the middle of the set, then at the end. Bossman came with me, and he loved it too, we stood there gawping as classic after classic was belted out.
Live forever! (as Ray Bradbury would oft say)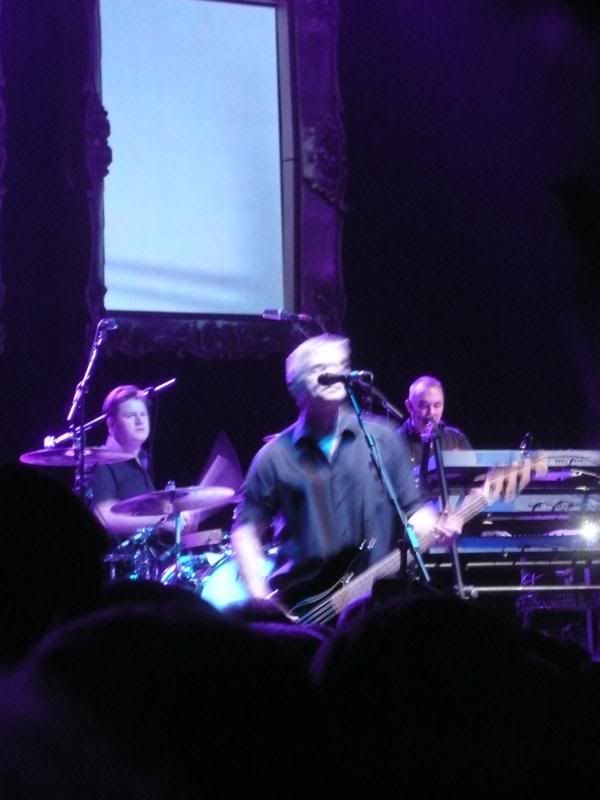 JJ Burnel, the hardest man in punk.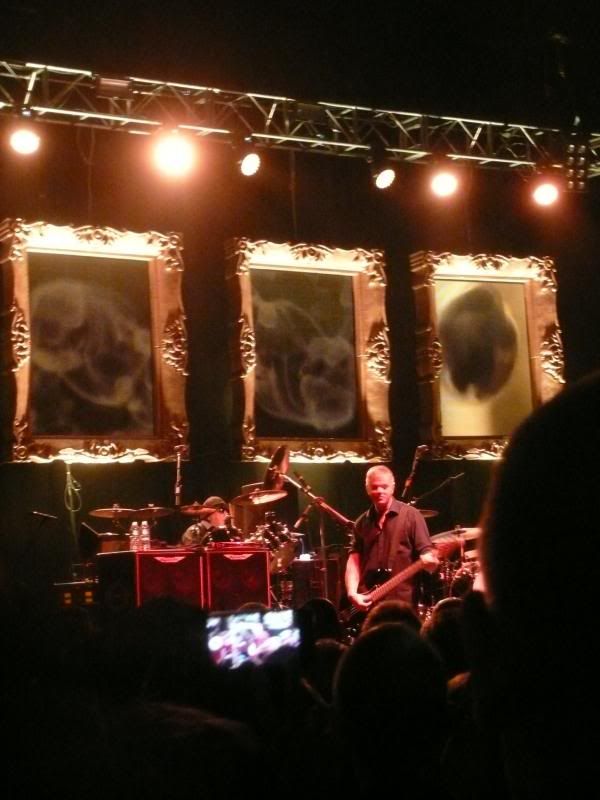 Jet Black (the oldest man in punk) and JJ Burnel (hardest man in punk)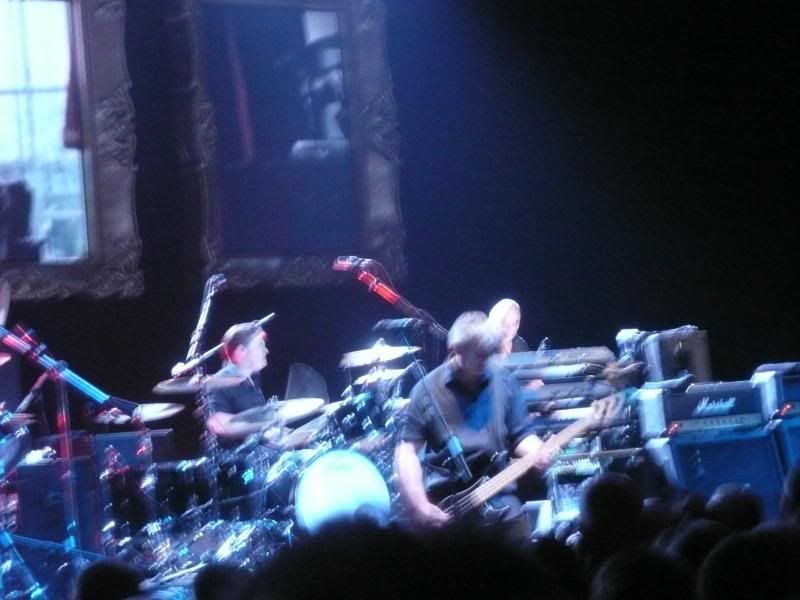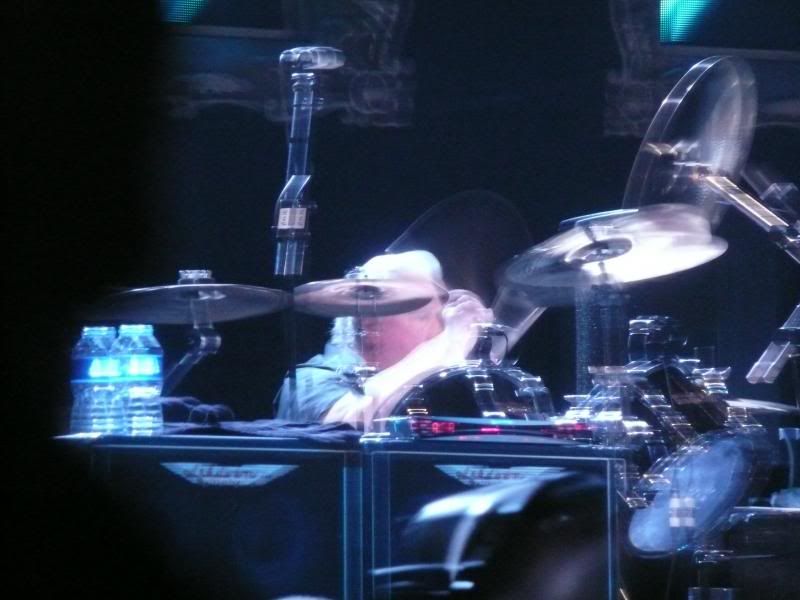 Jet Black (minus hat and shades)
Roman Remains Weds 23rd April, Hoxton bar and grill
Myself and the Bossman, we've always loved the Duke Spirit, those Hackney scoundrels playing their melodic 60s infused retro punk, so it was interesting to hear two of their members, Leila and Toby had formed a dark electronica act. This was to be their first UK gig. We'd never been to the bar and grill before, but it was great, got a burger before, walked into the venue and bang! Great acoustics, great view. Rum and cokes. We had a blast! The band were great too. Pick of the live tracks? Gazebo – it's one beautiful tune. Shared below.
The interior of the "grill" bit of the venue.
Roman Remains!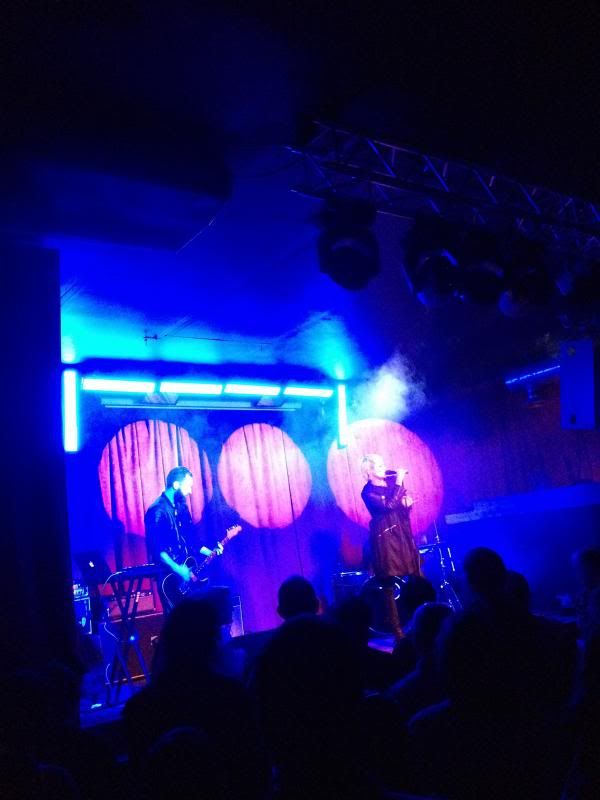 Joshua Homme (+ secret guest Mark Lanegan) Mon 16th June, Royal Festival Hall
As part of James Lavelle's meltdown (sadly I've never seen UNKLE and I bloody love them) I got the offer from John from work via his other friend John (who was a beneficiary of my two-hundred redials to get Kraftwerk tickets) to see Joshua Homme play an acoustic set. So he reciprocated with this opportunity - What a lovely decadent way to spend a Monday night. Homme was engaging, funny, chatty and played acoustic versions of QOTSA songs as well as a couple of covers.
But having always had a man crush on Mark Lanegan I had to restrain myself from seal clapping when the old bear loped onto the stage and together they played One Hundred Days and Hanging Tree. Beautiful.
Brian Jonestown Massacre, Tuesday 1st July, The Roundhouse
I was embarrassed to say I'd never heard any BJM before (actually a BJM sounds like a sexual act? Sod it, I'll carry on using the abbreviation and by using the word "sexual" this blog post might get more hits. Although they'll probably be disappointed.. BJM! BJM!)
Anyway, The Bossman made the recommendation. And what a psychedelic masterpiece of a band they are. Guitars everywhere, effect pedals everywhere, tamborines and jangly wonderment and noise. I only had my iphone, so no decent pictures so I'll share a video instead. I have to say though the gig was enhanced for me, because I was utterly dehydrated from an inter-work 5 a side game where no quarter was given, it was a hot day, I was tired and bruised. My mind was drained of it's usual spark and the music soaked into me, I was a happy zombie sucking down pints of cola as the two beers I'd tried to have earlier in the evening had just sent me into a soporific tailspin. I was glad to be sitting in the seats up in the circle. The roundhouse is a fantastic venue.
So what's to look forward to? The big one is Kate Bush in September, I must've signed up to her mailing list at some point in the past and got a pre-sale email. So I bought tickets, I'm skint, but happy! I wonder whether she'll be able to sing any of her early work? Artists' voices change in time, so hopefully there'll be new arrangements. But if it's new stuff only, I don't care, it's Kate Bush. She's British music royalty, her music brings a lump to my throat. It's beautiful.
But before then, Mogwai @ Koko … their new album is astounding. It's almost danceable, listen to Remurdered, when the synth jumps in half way through, it's jumping. Those miserable socially conscious Scotsmen… I would hug them all, and embrace their white noise!