I met Sal last Sunday afternoon, it was a glorious winters day, watery sunshine, crisp but not too cold. Perfect weather for a long walk. It is something we do not too infrequently, walk and talk, stop off along the way, pitch our tents and hunt for fur seals.
This time we decided to hook up at Southgate tube station, and trail our way Southwards….. towards the pole. Well, towards central London anyway. I had it in my mind that we would make the Thames, set up camp 1, then get a tube back (a good 11 miles one way). But it was beyond our capabilities, the conditions turned sour, our frostbitten feet and hands crushed by the wintry fury of mother nature, our eyes blinded, and our bodies wracked and bleeding by the polar bear attack in Palmers Green.
I met Sal back in '87 when we were both losers at Southgate Technical College, now we are pretty much the same, losers, but slightly richer, better fitting clothes, a thirst for polar exploration and with more grey hairs, so it was apt we should start our journey at Southgate tube. Southgate tube station is a lovely old piece of art deco grandeur, it has gorgeous curves, and from a distance it is even more pretty, especially at night when it is lit, and you can't see the rubbish and dog turds from close range.
Here it is back in the day.
I think it was designed by a famous architect, Charles Holden as were a lot of stops of the Piccadilly line, but I can't be bothered to look up and confirm this, and you probably don't give a shit anyway.
So on to our quest, and like the main character in James Joyce's Ulysess, we set forth on our walk through London, but I am better than Joyce, as this blog is more succinct and doesn't involve 18 pages of tedious description recounting stopping off at a butchers to buy a pound of sausages.
Through the leafy lanes of southgate, down towards the upper end of Palmers Green, cross the dangerous North Circular road and into the northernmost reaches of Wood Green. It was a relatively trouble free journey, our supplies were not depleted, our huskies were fit and healthy and we had no need to shoot them for food.
Through the bustling high street of Wood Green, avoiding screaming children being dragged round the shopping city, then into the vibrant ethnic mix that is Green Lanes, where I grew up and spent many a 20p buying comics at Maqsood's newsagents we ploughed forward, our snow goggles steamed up by the kebab house savoury smoke. At Manor House we had a choice, do we surge forth for Stoke Newington and the city, or turn South West towards Finsbury park, Camden and the West End. We opted to surge forwards, into the expanses of wilderness, further into Green Lanes, towards Newington Green. There were no tube stations for hundreds of metres down this path, so we steeled ourselves for a long journey. We passed the folly castle on green lanes, the old water pumping station fashioned into a mock mediaeval fort. As a child on the 141 bus, on regular journeys to my dads fish and chip shop down near Newington Green, this castle always impressed me, and even now, amoungst the dreary monotony of same same flats it stands proud, an awkward gaudy landmark, totally out of place, but somehow beautiful in its own way.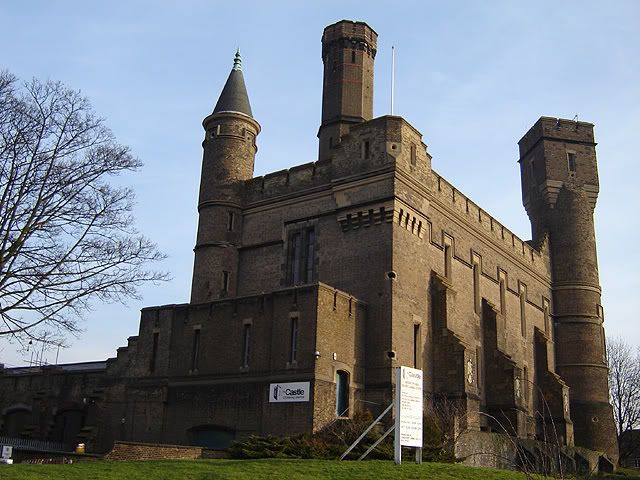 Growing up, this was the closest I got to Knights and Castles, catapults and Kings, and I would often wonder what it would be like to live there. I didn't realise it was a big empty shell housing a huge water pumping facility at the time, but even if I was told that, it wouldn't have spoilt my fantasy. When I'm an eccentric millionaire I'm going to buy it, hire a private army and declare my independence and print stamps with my face on them.
We reached Clissold Park, where I spent many a day as a toddler and young child, looked after by an ancient old lady from Smyrna, she must have had rock hard shins as I was a brat and used to kick sh*t out of her, while mum and dad toiled in the shop. There was a menagerie there, I guess there still is, and I wasted many an afternoon coaxing the mynah bird to talk to me.
We were hungry, Church Street beckoned, the dippy hippy enclave of Stoke Newington. A quick beer, a thai meal (authentically just like the ones you get in Antarctica), then watched Newcastle rob Spurs of three points. A cigar and a trip home. Next time we'll reconvene from that point and continue our walk to the pole and walk and talk some more.