Last Autumn, me and D were looking at places for a weekend away whilst the sun still warmed the face and the breeze was bracing but not cold. Having investigated the east coast in suffolk, our normal haunt, we tried norfolk, but no luck in terms of character accomodation anywhere. So I traced a fingers along the map of the South Coast and randomly selected a place to visit... Rye. A bit of research proved this was not a chav town and there was plenty to do. The selection of the Ship Inn was a good one too, not too fussy, quirky and with delicious unusual stuff such as razor clams on the menu (oh my god, Ray Mears is right... they are delicious...!)
On the Saturday afternoon we popped into the small Art Gallery in Rye and to our surprise, multi-media artist Dave McKean was exhibiting there.
For the unitiated, McKean has form in many media, childrens books (eg - Wolves in the Walls) and comics such as the absolutely seminal Arkham Asylum graphic novel featuring Batman up against all his enemies. He's also recently designed a set of stamps for the Royal Mail, featuring mythical beasts such as Giants and Dragons... and there are reams of further work.
Both of us are big fans, I was aware of McKean through his work in comics, D through his childrens books, so to find him exhibiting and more thrillingly selling original work in this gallery was amazing for us. He lives locally and is a keen and active member of the local arts community.
We've never done this before... but we thought sod it, once in a lifetime... so we ended up foregoing food and heating for three months and buying two original pieces of work from a new hardback graphic novel/story he penned set in Sussex and around called "The Coast Road". This book isn't to my knowledge going to be available on major release, it was printed as a limited run for the gallery to sell alone, so we felt proud to be part of it and own part of it.
These two pieces of work are now proudly displayed in our living room.
There was another one of a crow in a graveyard which I drooled over, but someone else had already purchased it, so it's just the two bird related McKean originals.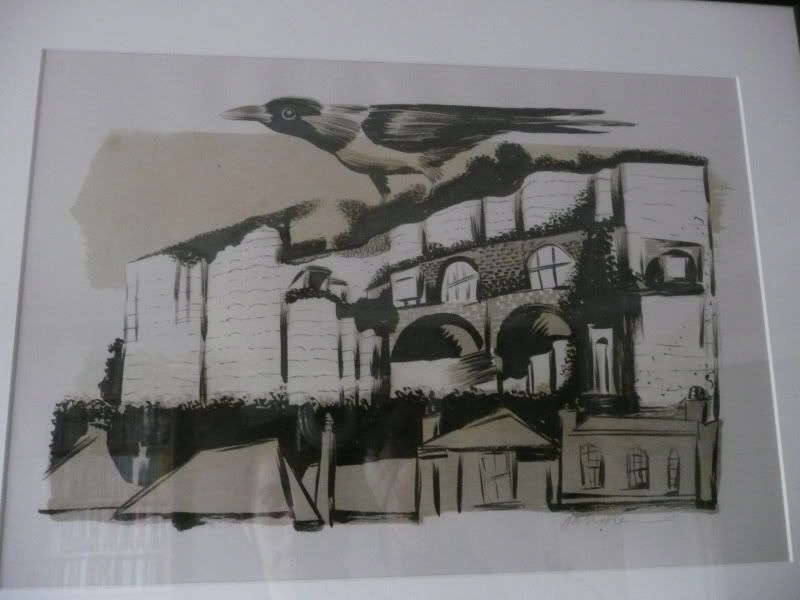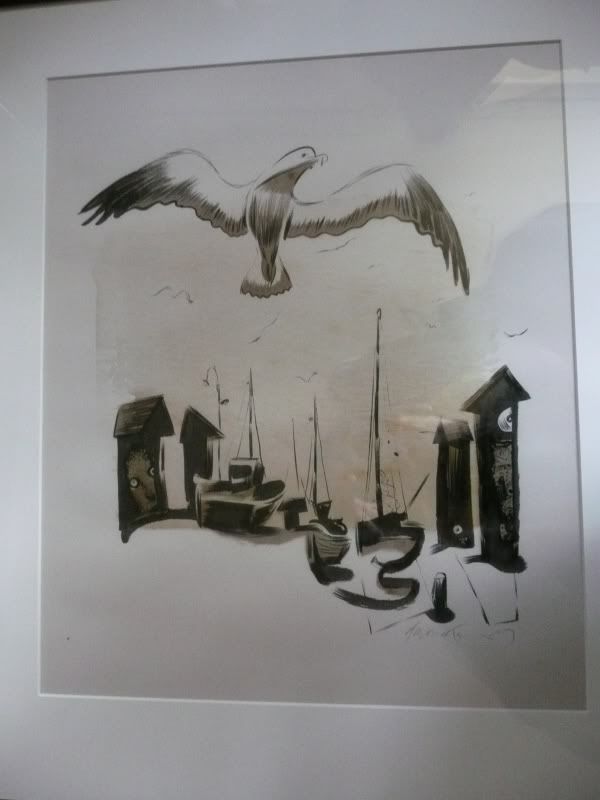 Photo quality isn't that good, but it gives you a gist for the quality of the work.
What was also in the gallery was a group of pen drawings made by McKean to illustrate the sinister Ray Bradbury story "Skeleton". It's about a guy who becomes fixated and terrified of the fact that a skeleton was inside him, so much so that he plots to have it destroyed. His descent into dark obsession is wonderfully captured.
I grew up with Bradbury short stories, tales of small town american fairgrounds and the disfigured and the supernatural.
Most were written in the 1940's and 50's, certainly those I read, and still have some relevance and resonance today. His story "The Veldt" for instance, is ominously premonitory of the technology coming down the line in the modern age.
But anyway, Skeletons, limited release of 500 books. You can't get one for under 100 quid now... and here was the whole set of art from the book, available to buy. Alas... I couldn't afford it of course. Gutted. Here is a snippett of what I mean, it would have made an amazing portfolio if someone was rich enough to buy them all. And there they all were, hanging on the wall... saying "buy me", laughing at me with their bare skeletal teeth, looking through the bare bones of my finances with those empty leering sockets...
Finally, and thankfully more widely available is another great McKean / Bradbury collaboration. In the lush hardback version of "The Homecoming" a tale of a normal mortal boy being born into a supernatural family, McKean adds his art to the old short story.
I wouldn't say this is a particular favourite story of mine, but from a popular culture context I believe the supernatural family Bradbury created was the inspiration for either (or both) the Munsters and the Addams family.
The art really fleshes out the story though and the ending, the last paragraph in fact is really heart wrenching and sad. Here is an example.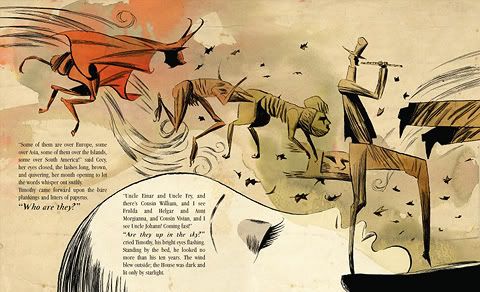 If you want to check out more examples of McKean art... try this amazing blog article which pisses all over mine....
Finally, I salute you Ray Bradbury.. he's around 90 odd, still writing, but my favourite stuff is from his pulp short story days in the 40's and 50's... never get bored of them.