I have to say I was very excited to hear Mark Lanegan had recorded a new album and was touring. And not just a new album, but a Mark Lanegan Band album, his own compositions. We'd waited eight long years between 2004's Bubblegum and this years Blues Funeral. In between Mark busied himself with collaborating, his growl added to the work of Isobel Campbell, The Gutter Twins and Soulsavers. It was like this work kept him in touch with the musical world, on a low intensity, whilst he hibernated like a ruminative bear incubating his own songs.
And after this long hiatus, the new album, it's when he has his own voice that his songwriting, his under appreciated poetry, his music and his vocals really come to the fore.
Blues Funeral is great, full of the expected dark gospel and gothic blues as well as big rumbling rock numbers. But scattered throughout that mix are some uplifting lyrics. There were always references to religion in his lyrics, an evocative hook many singer songwriters latched onto, whether they were religious or not. Lanegan's past (although he doesn't dwell or want to discuss it) is one which looks to be scattered with regrets and tragedies, addictions, jail and poverty, this comes through in his songs, so when he roars the following on the powerfully raucous "Quiver syndrome" it does verge on the Christian Rock (and I don't say this in any derogatory way, as it's a brilliant tune, but when I catch myself singing along to it I do smile at the thought of the arch-agnostic getting right into it!).
"Will the lord hold me down, because I'm wicked? Will the lord hold me down, to my shame? Will your love it get into me jesus? Now I heard you calling out my name."
And the almost Goldfrapp like "Ode to Sad Disco" is another one, an uplifting song with a synth groove running through it, has lyrics relating to seeing the light and being on your knees.
But of course, there are also classically dark songs, like the opening track of both the album and the gig. "The Gravedigger's Song". The video draws on so much of the horror genre, it should have an 18 certificate :)
So, onto the gig. I met up with the Bossman and we got to the venue early enough to catch the last couple of tracks of the first support act Duke Garwood. With perseverance, his disembodied blues with almost unintelligible lyrics was compelling. The already large crowd (it was a sell out) watched respectfully as he occasionally plucked or strung out a lyric whilst his equally hirsute percussionist trudged away in the background.
After Duke Garwood, the Creature With the Atom Brain, a psychedelic stoner rock band from Belgium. They were brilliantly tight. Really enjoyed them. Here is a pic. I particularly liked the bassist as he looked like a Greek priest with his hair in a bun and his big beard :)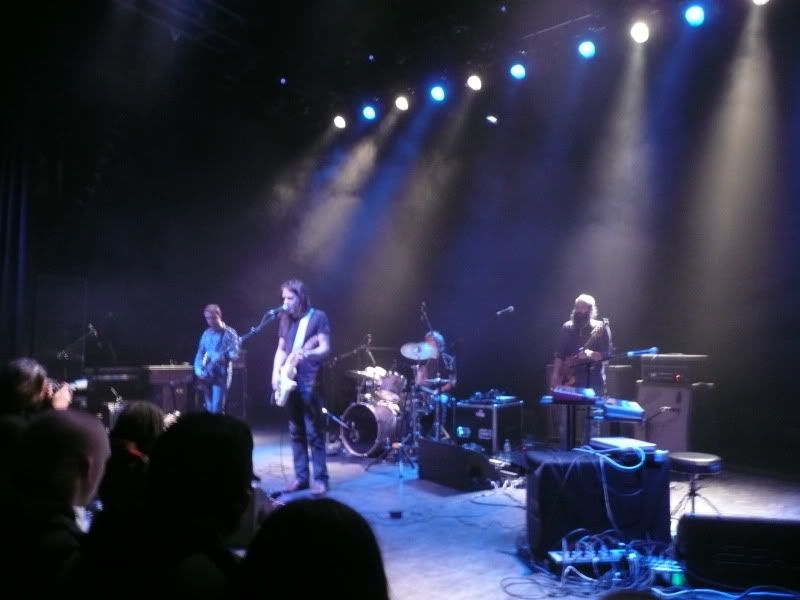 And then to Mark Lanegan himself.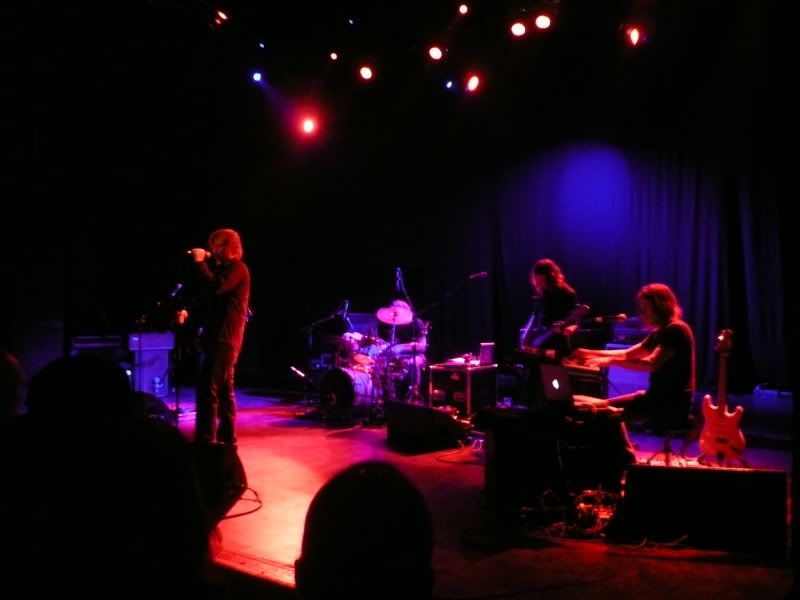 He is a man of few words, he doesn't have much to say beyond the songs themselves. But some people in the audience want to hear some stand up it seems. "Give us a smile!" someone shouted. Lanegan didn't flinch or react. Just enjoy the music dudes! He stood in his familiar pose, one hand fixed high on the mike stand, his crucifix tattoo visible on his fist, the other hand gripping it lower down, like he was clasping to it for dear life.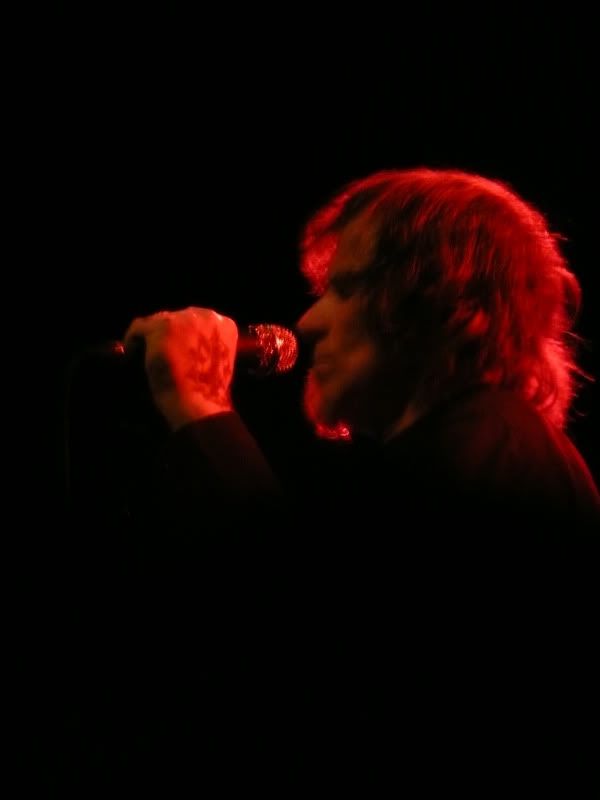 Songs of death, regret, attempted suicide, drinking, depression, addiction, love, lost love, cruelty, despair. His lyrics are moving and powerful. When he did speak, it was just to mumble the occasional thankyou. When he introduced his band, he seemed crippled by shyness and self doubt. For someone who bares their soul through their lyrics, just genial engagement with an audience tests him. I've no problem with that. In fact, it's endearing. We all have our doubts and challenges. The fact he came out to sign stuff for the audience after the gig must have been difficult for him too.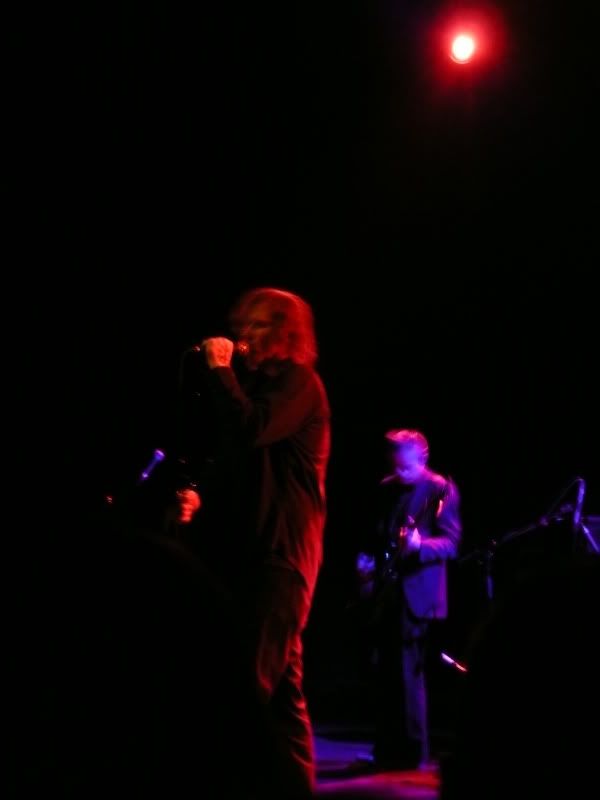 All in all, including the encore, the band played twenty tracks, new tracks and some classic old ones, such as "One Way Street" from my favourite Lanegan album Field Songs. Bubblegum was also well represented, another great album, often cited as his best. It was a mammoth performance, he poured his heart into it. Lanegan sweated like a beast, sweat poured down through his beard, onto his shirt and the floor. His big leonine head occasionally rocked, his face grimaced as the storm raged around him. Some lyrics seemed painful for him to sing.
When it came to the first encore track "When Your Number isn't up" a song about loneliness and a botched suicide attempt (I don't know whether it was his own) he sounded particularly vulnerable. It was moving hearing this song live.
When your number isn't up (Mark Lanegan)
Did you call for the night porter?
You smell the blood running warm
I stay close to this frozen border, so close I can hit it with a stone
Now something crawls right up my spine
That I always got to follow
Turn out the lights
Don't see me drawn and hollow
Just blood running warm
No one needs to tell you that
There's no use for ya here anymore
And where are your friends?
They've gone away
It's a different world, they left you to this
To janitor
The emptiness
So let's get it on
When the sun is finally going down, and you're overdue to follow
But you're still above the ground
What ya got comin' is hard to swallow
Like blood running warm
Did they call for the night porter
And smell the blood, blood running warm
Well I've been waitin at this frozen border, so close you could hit it with a stone
It was swiftly followed by Pendulum, a song about Jesus, his sacrifice, loneliness (again), drifting and homelessness. Then Harbourview Hospital, from the new album, about redemption and personal demons and finally the massive Metamphetamine Blues. People saved their moshing for the last track of the evening.
It seemed apt the last words he sung were "I don't want to leave this heaven so soon".