Me and the Bossman went to see the Noisette's last night at Kings College. First time I've seen him this year... I guess he's been busy, becoming a dad to the cute Jacob of course :-)
The first band on were Mozzy Green, I think they had lyrics about robots and pressing some different coloured buttons. It should have been right up my street, but I didn't really get into them as me and the Bossman were chatting at the back, catching up over a beer. It seemed we were always talking about something innapropriate in the quiet moments between tracks. The two stand out shouted out snippets of conversation the band must have heard were :
"You f***ing retard!" when Bossman was recounting an anecdote and "SHIT IN THE BATH!" when he was trying to tell me about his 4 month old son. Both completely out of context. The band probably thought there was someone with Teurette's in the back of the audience or were getting heckled. Probably no-one will find it funny, but we had tears in our eyes and couldn't stop laughing for a few minutes. So Mozzy Green, I'm sorry, we weren't laughing at you.... and thankyou for not steaming into us after your set. I'd have let Bossman fight the two blokes in the band (the lead singer and the beefy drummer) I'd have probably tried to fight the girl, but she played the cello, so I reckon she has developed upper body muscles, despite her willowy look so would probably have taken me down with a swift one two combo to kidney and chin.
The next band were called Slow Club, really liked them, enthusiastic and infectious. Girl/Boy combo playing quirky acoustic pop-country. Great vocal harmonies and tight musically. I've added them as a friend.
Finally, the main event, Noisettes, I've been reading for ages about their live performances, and they didn't disappoint. Shame I have tinutis this morning as we were too near the speakers....
I was going to write something about the band... but their profile on myspace captures it marvellously....
"Noisettes are fronted by the supremely talented and beautiful Shingai Shoniwa, a vocalist and instrumentalist who sings like Billie Holiday on PCP while patrolling the stage like an Amazonian Warrior with an eye for fashion. Shingai howls and soothes, gives you goose bumps and shoots soul into your main arteries.
Dan Smith, the second line of defence, wields his six stringed axe around the stage like being a guitar god is going out of fashion. Driving rhythm becomes a soaring riff as this virtuoso sets the stage and the hi-fi alight. Bringing up the rear is Jamie Morrison, a drummer so heavy with his sticks and skin that you wont notice he is more hair than man."
So there you go! Photo's below.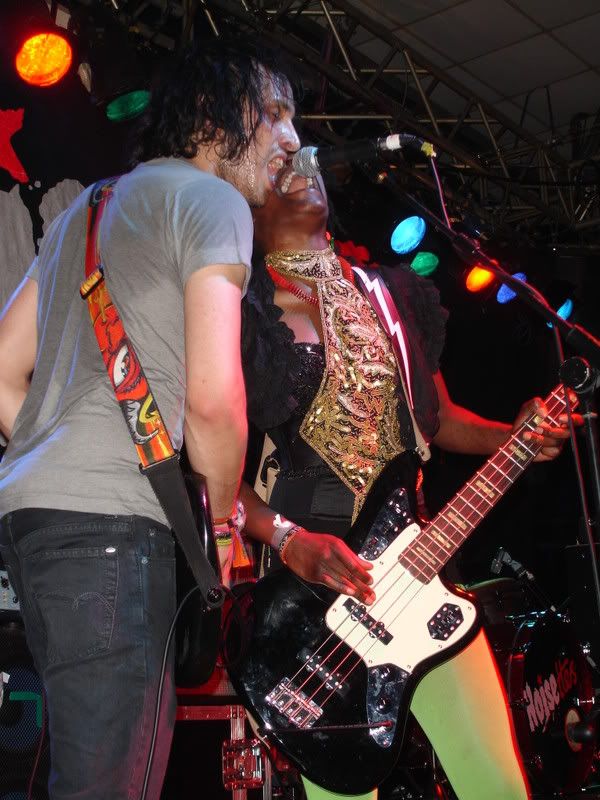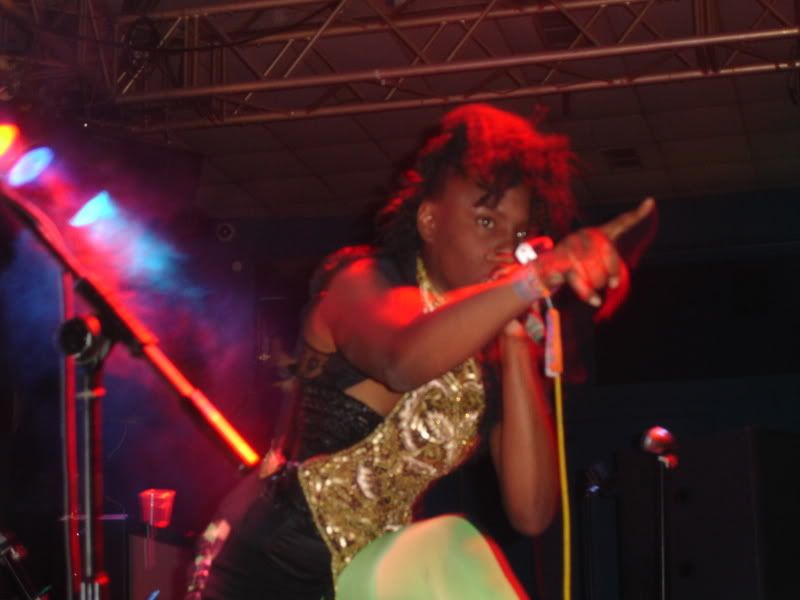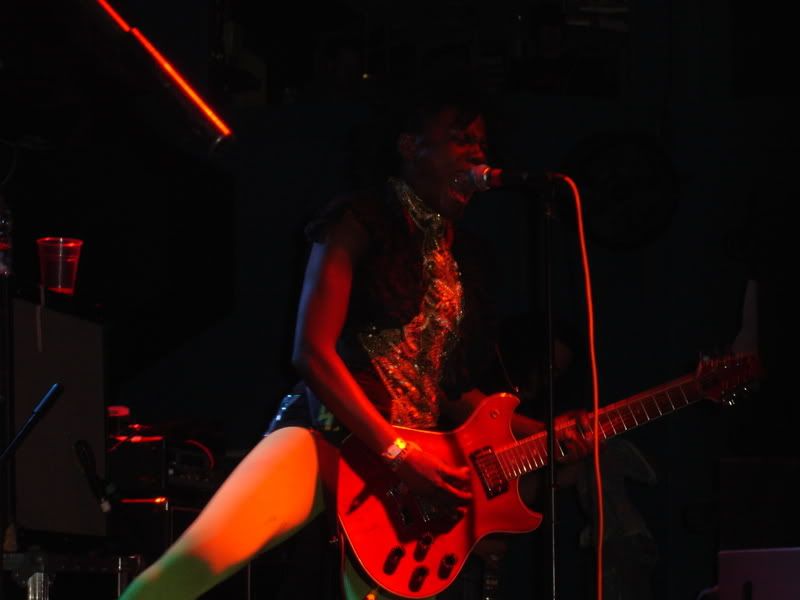 Has she got algebra written on her leg?